"Doubt" Scott C. Brown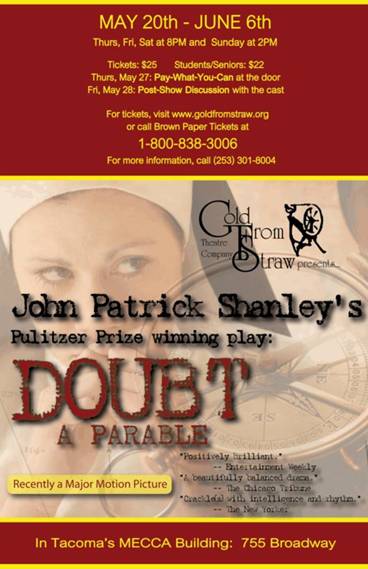 That's right, you can see Scott C. Brown in the play "Doubt". See below for details.
RUNNING FOR 3 WEEKS!
May 20 – June 6
Thurs – Sat at 8PM; Sun at 2PM
(Doors open 1 hour in advance)
In this brilliant and powerful drama, Sister Aloysius, a Bronx school principal, takes matters into her own hands when she suspects the young Father Flynn of improper relations with one of the male students. Certainty, doubt, and duty struggle for the upper-hand, and what is "right" is as elusive as the truth.
What has the press said about Shanley's Doubt?
"It is an inspired study in moral uncertainty with the compellingly certain structure of an old-fashioned detective drama… It sends off stealth charges that go deeper emotionally. It is tight and absorbing." — Ben Brantley, New York Times
"#1 show of the year. Gripping. Impressive! Doubt takes the stuff of headlines and turns it into deeply moving drama." — Howard Kissel, Daily News
And the rave reviews go on and on.
FOR TICKETS:
visit www.goldfromstraw.org
or call Brown Paper Tickets 24/7 BOX OFFICE at 1-800-838-3006
Tickets also available at the door.